With a new builder , Hope for Juhu HSG SOC residents
Media Reports, JUNE 13, 2021
Print Media
1. The Times Of India - With a new builder hope for Juhu hsg soc residents
The Times of India (TOI) is an Indian English-language daily newspaper and digital news media owned and managed by The Times Group. It is the third-largest newspaper in India by circulation and the largest selling English-language daily in the world.

Monthly Readership - 8,640,432

Online Media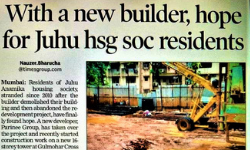 Times of India website is an online component of the Times of India newspaper. It covers all the breaking news in the country from current affairs, entertainment, and politics to sports, health, and wellness.
Monthly Pageviews - 153 Million

ETRealty.com tracks all the ETRealty.com tracks all the media outlets focusing on the Real Estate industry and brings the most relevant and important news & analysis on the industry to ensure that industry leaders keep pace with this fast-changing exciting industry. It covers whatever matters in the Real Estate Industry in India, and analysis on new launches, Mergers & Acquisitions, FDI, Industry Research, Joint Ventures, and other business developments.

Monthly Pageviews - 22,99,27,890
Realty Beat is one of the known real estate websites where you can get all the latest real estate property news, real estate pricing, and real estate trends.
Monthly Pageviews - 1,05,000
M3M Gurugram, the pioneer of real estate sources in India operates under the philosophy of keeping its readers informed. M3MGurugram.co.in stands for providing Gurugram M3M RealEstate information for its readers. It also covers comprehensive M3M Real Estate news and daily updates. M3M Gurugram offers wide range of extraordinary insights on topics which includes best investment opportunity, client reviews on projects and more.
Monthly Pageviews - 22,560